Introduction to Scuba Diving with Dive In Limassol
Dive In Cyprus is ideal for the beginner taking those first breaths underwater. PADI Bubble Maker is for those 8yrs+, whilst Discover Scuba Diving is for anyone over 10 years of age. Contact us today to arrange to Dive In with Dive In!
Save The Memories

Share Your Experience With A Personal Photo Disk.
Pre Booking Is Required.
Social Media
Follow Us & Keep in touch!



We also a have a Blog site, updating you on all of our latest news. The Blog also has a page giving tips on diving as well as purchasing, maintenance and reparing your equipment.
Click here to visit www.dive-in-limassol.com/blog
First Breaths Underwater
Bubble Makers & Discover Scuba Diving(DSD)
Bubble Makers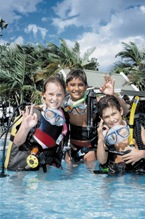 The PADI Bubble Maker Program is designed for children over the age of eight. Children kit up in full Scuba Diving Equipment and then its off to the swimming pool (depth 2m) to enjoy their first experiences underwater, having fun with frisbees, torpedoes and a range of other kids toys. Children will experience breathing underwater whilst practicing the feeling of weightlessness in a fun and safe environment.
The whole experience is under PADI'S strict ratios with a qualified PADI Instructor.
All kids get a certificate of completion afterwards, signed by their instructor to show off their achievement taking their first breaths underwater!
Watch our very own Bubble Maker recording.
Discover Scuba Diving (DSD)
Do a DSD with us and get FREE access to the first section of The Open Water Course on line! PLUS a 90 day trial subscription to Sport Diver magazine online, and down load a PADI eCard recognising your DSD Experience!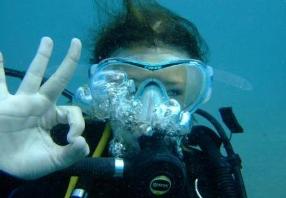 This is an experience put together for those 10 & over its not a course, but can be counted towards your Scuba Diver or Open Water Course Certifications should you wish to continue.
Our instructor will run through a little bit of theory, you will then kit up in full Scuba Diving Equipment head up to the swimming pool to practice 3 diving skills whilst getting used to breathing underwater for the first time. Optionally, after the pool the instructor can take you out into the bay for your very first dive in the sea!
Our Planet Is Two Thirds Water. Learn To Scuba Dive And Live The Adventure. Contact Us Today!
PADI On YouTube