Diving Sites Offered By Dive In Limassol, Cyprus
For Divers and Snorkelers there are some fantastic dives and places to snorkel both in Limassol and Cyprus. We are the experts for diving The Zenobia as well as our own local wreck and dive sites. Contact us today to arrange to Dive In with Dive In!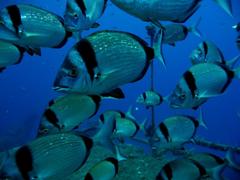 If you prefer to see the aquatic life by snorkeling, we offer local snorkeling trips, where you can see some of the fish life here in Cyprus. Great fun and very safe for the whole family, we can provide snorkeling vests to take the strain!
Just relax in the crystal clear waters and enjoy the experience.
Non divers can snorkel and watch the divers from above, the divers bubbles will give you a free Jacuzzi at the same time!
You will also get the chance to see a sunken helicopter, canon & an old fire engine.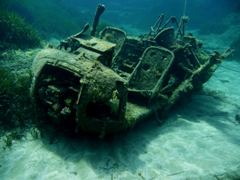 Aquacat
Our Main Dive Boat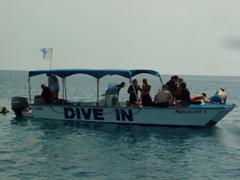 Our main dive boat The Aquacat is a purpose built, comfortable 9.0 metre diving catamaran. A very stable boat with a perfect platform for diving and snorkeling. she is coded by The Department of Cyprus Merchant Shipping as a Commercial Vessel.
She is powered by 2 Yamaha Two stroke 200 Horse Power Engines, so plenty of power to reach dive sites smoothly, even with a full load of divers and their equipment.
Trips leave at 8.30am and return around at lunchtime.
Contact us for further information on diving or snorkeling trips
Social Media
Follow Us & Keep in touch!



We also a have a Blog site, updating you on all of our latest news. The Blog also has a page giving tips on diving as well as purchasing, maintenance and reparing your equipment.
Click here to visit www.dive-in-limassol.com/blog
Explore & Dive With Us
Local Dive Sites
As a PADI 5 Star Instructor Development Centre all of our Dive Guides are PADI Professionals, Divemasters or Instructors and above with many years of diving experience. We always put safety first, and naturally we always have Emergency Oxygen readily available in the likely event that it maybe needed.
Local Wrecks, Dive Some History!
In February 2014, 2 vessels were sunk in a new fish reserve in Limassol to start off the creation of an artificial reef.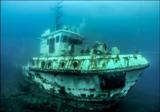 (pictured to the left) was a 31m Cruise vessel, built in 1953.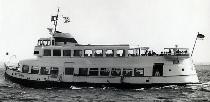 Initially she was named 'Altona' and she was used for short trips between Flensburg and Kollund, then in regular services to Glücksburg.
In 1993 she was sold to E. and D. Tsakos, in Limassol and renamed 'Lady Thetis'She had a Sister ship 'St. Pauli' which in its time was used as a disco, and eventually scrapped in 2010. 'Lady Thetis' now rests at around 21m, and on the dive you can sit at the upper deck tables!

(pictured to the left) was a 23m bottom trawler and was built in the former Soviet Union in 1989. Its original Russian name was 'Zolotets'. She was registered at the Register of Cyprus Ships in 1997 and operated in international waters in the eastern part of the Mediterranean Sea for a short period of time. 'Constandis' now rests on the bottom at around 24m.
Contact us to arrange a two dive package on the above wrecks.
Follow this link for information on The 'Zenobia' She is voted as one of the Top Ten Wreck Dives.
Akrotiri
Amazing interaction with local marine life. Shallow dive suitable for all divers. Fish life includes Groupers, Moray Eels, Sea Bream and Bass and many Octopus. 9 Metres. Fantastic For Snorkeling too! See the sunken helicopter and canons!
Sharks Cove (No sharks though!)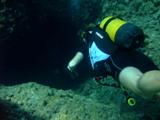 A spectacular cove on the Akrotiri Peninsula. A submerged tunnel starts and ends the dive where in between you glide along the cliff face before circling back over a rocky reef bottom. 12 meters.
Contact us to arrange a two dive package for Akrotiri & Tombs. Non divers are always welcome to accompany divers on the above two dives for snorkeling or just a leisurely boat trip.
Tombs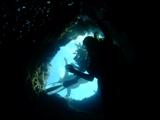 Close to the shore there is a series of apparently man made caves which resemble ancient tombs. Very scenic with prolific marine life. 12 metres.
Pyramids & Cars (2 Dives)
Dive Pyramids in The Ancient Harbour before moving just outside St Raphael Marina for Cars.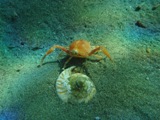 Situated in the Ancient Harbour Fish Reserve. Man made blocks forming pyramid shapes to attract Marine Life. 18 metres.
An old sunken Jet Ski lays at rest amongst some beautiful swim throughs. 12 metres.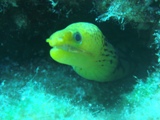 Big Country
A great multi-level dive site with caves, overhangs and very large boulders. You will get a chance to see Grouper, Morays Octopus and large shoals of Damsel Fish. 23 metres.
Big Country is a challenging dive only accessible by boat with favorable weather conditions.
A Dip In Aphrodite's Bay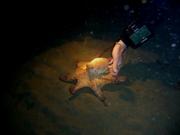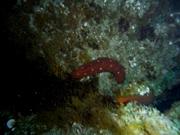 A Night Dive
Aphrodite's Bay comes to life at night. The aquatic life coming out to play, enjoying getting caught in the divers flash lights. Octopus, Cuttlefish & Sea Horses are just a few examples of what you will see.
Day Diving In The Bay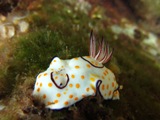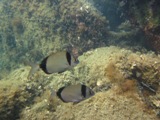 Not much time to get wet, but you really feel like a dive, then a dive in the Bay is perfect. With It's lovely sandy bottom, Octopus, Trumpet Fish, Sea Slugs, Sea Bream, Wrasse and most recently Barracuda are just a few examples of what inhabits the area.
Explore a little deeper! with a trip to Larnaca for two dives on one of The Top Ten Wreck Dives In The World.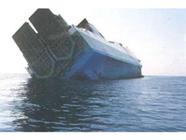 A Truly Memorable Dive!
A 180m long roll on roll off cargo ferry that sank in 1980 with its full load of 104 lorries. She sits at a depth of 18m down to 42m. She is consistently voted by divers as one of The Top Ten Wreck Dives in The World. She was built in 1979 by Kockums in Malmo, Sweden. A Swiss registered vessel, she set off from Malmo on her maiden journey on May 4th 1980, bound for Syria, carrying 104 lorries all loaded with cargo. The cargo was destined for the Mediterranean and Middle Eastern markets. She entered the Mediterranean Sea through the Gibraltar Strait on May 22nd 1980 and sailed to Keraklion, Crete. After 2 days moored there she then departed for Port Piraeus, Greece. En route to Athens the captain noticed problems with the steering and The 'Zenobia' began listing to the port side. Checks revealed that the listing was caused by too much water being pumped into the ballast tanks, cause by a fault with the computerised ballast system. She eventually arrived in Larnaca on 3rd June 1980.
Engineers had started work on repairing her, but at 2.30am on June 7th 1980 The 'Zenobia' sank to the bottom of the Mediterranean in 42 metres with its £200 million worth of vehicles and cargo.
At Dive In we create personal dive packages tailored to your holiday schedule, and non divers are always welcome to accompany divers on our dive trips for snorkeling or just for some leisurely boat time.
We can also arrange VIP diving, snorkeling & luxury boat trips.
Contact us today and let us put a package together for you.